Rosella Apart & Hotel is very well located in the centre of Alanya. Nearby there are various attractions, which are only 2-3 kilometers away. These are Damlatas Cave, Red Tower, shipyard, lighthouse, several beautiful parks, museum and more. The promenade is very beautiful, clean, well-maintained and beautifully lit, so that a walk along it will be a pleasure both during the day and at night. Near the hotel, there are many shops, markets, clubs, yacht club, travel agencies, various centers, where life is literally boiling.
Check Rates
They checked me in right away and even fed me with leftovers from lunch at the beginning. I've been to a lot of triplexes in other countries, but I didn't expect to come across such a shabby room. The furniture is very old, painted white paint, and a long time ago, so it had time to peel off. The room had a double bed, a small sofa, a mirrored table with a pouffe, a nightstand, a chair, a built-in wardrobe and a kitchen area. The table and nightstand had no handles, and the drawers themselves were hard to pull out. There were no complaints about the spaciousness of the room: the toilet, shower room, balcony and the room itself were of normal size.
As it turned out when we went around the room, the plumbing was in even worse condition than the furniture. The taps were poorly closed and all were covered with a thick layer of plaque, so it was unpleasant to touch them. The toilet handle was dangling in all directions and the toilet bowl itself was covered in rust and a rusty ring.
I immediately noticed that there was a breaker out of the wall (wires were sticking out), so there was no light, the TV did not turn on, the air conditioner did not work. To my comment about the lack of light in the room, I was told that there is a light above the bed. But I asked for another number, after which I heard the magic words "technician, technician". I have to give credit that the technician came right away and in about half an hour he fixed the switch, TV and air conditioner. But all of this could have been checked out and done before they put me in the room.
The room itself was dirty: washed towels, sheets, dust on the furniture and a very dirty sofa. Since it had the marks of someone else's sneakers on it, I decided to wipe it off myself. After a single wipe, the rag is now just black. By the way, cleaning was very negligent: they wiped the floor, took out the trash, did not change anything (towels were put back on the floor), did not wash the plumbing, wiped the dust. They only cleaned when asked.
About the refrigerator it is necessary to tell separately as it very expired, constantly rattled, and at switching off made simply a rattle. It didn't freeze well and food would get soggy quickly.
Of the pluses of the room I will note the following: working conditioner, always hot water (in other rooms complained about its regular absence), spaciousness, TV, a kitchen area (sink and countertop near her), a refrigerator (in many rooms, it is not), hair dryer, a built-in wardrobe with hangers, mirror table, a few outlets, comfortable mattress with pillows and a balcony. If you close your eyes to the squalor of the furniture and plumbing, then overall the room is functional. Saw different rooms of this hotel: mostly the same as mine, but there were rooms with newer furniture.
Breakfast here is very poor and monotonous. Breakfast was always boiled eggs, soy sausage and sausages, 2 varieties of local heavily salted cheese, olives, jams, bread, inedible oil, tomatoes, cucumbers, water-diluted milk and cereal. From drinks, tea, coffee and diluted drinks like Yupi.
Lunches and dinners are much better and more varied. From meat they gave mainly chicken stewed, baked, fried (grilled, shawarma, etc.) and soy cutlets, a couple of times they gave liver, mushrooms. Vegetable dishes are quite diverse and quite edible: eggplants in different versions, salads, gravy, legumes, rice, pasta, soup purees, cucumbers, tomatoes, peppers, herbs, baked and fried potatoes, etc. Drinks at this time were joined by local Cokes, Fountains, Sprites, beer, wine and some other spirits. Sweets here are not present (for 10 days of stay gave once pastries which sravyvali instantly), as well as in general any food beyond breakfasts, lunches and dinners. Of fruit they gave watermelons, apples and oranges.
Since tourists from three hotels eat here, crowds of people gather, and the tastiest meal is snapped up by the first one to arrive. In the beginning, food is put up, but at the end of breakfast, lunch or dinner time there are already only leftovers.
As for the quality of food and utensils, they are by no means safe for health. Our whole company had an upset stomach. Only then did we discover that for lunch and dinner we were often planting food from a previous meal, and making salads out of leftovers. Because of the intense heat, these dishes soured quickly and gave off a characteristic smell. There was also a suspicion that the water in the cooler was drawn from the tap, as there was always the same open bottle, it did not taste like bottled water, and the local workers preferred to drink purchased water.
There is Wi-Fi in the main building, but you have to pay for it ($1 per day). Paid internet works briskly both in the lobby and in the rooms. In the next building, the connection was weak and spread out over a very small space.
For entertainment there is a tennis court and a large TV.
The beach is right next to the hotel (about a hundred meters). It is only necessary to cross the road (transition is relatively safe, on a traffic light), as the beach begins. The beach is sandy and pebbly, and along the whole shore in the water stretch stone slabs, so that at first glance you can beat your feet and get unpleasant experience. The water itself in early July was very warm, clear, with no waves.
The hotel does not have its own beach area, so you have to pay for sun loungers and parasols. But you can rest on your own towels, use the showers and toilets.
Thus, Rosella Apart & Hotel is mostly suitable for those who are unpretentious about the accommodation and food and spend most of their time away from the hotel: on the sea, sightseeing, walks and so on.
Check Rates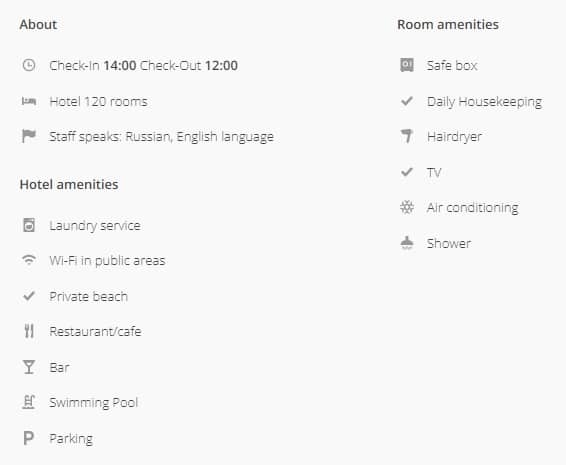 /?php echo the_content(); ?>