The Costa Verde Plane Hotel is located on a coastal rainforest cliff between Manuel Antonio National Park and the Pacific Ocean coastline, Costa Rica.
Check Rates
This hotel is great for a vacation, tropical wedding or honeymoon. Over the past 25 years, this hotel has been designed, built and refined to provide guests with a unique tropical luxury experience. As they call it a " jungleoasis" ideal for families, groups or couples, it offers accommodation for different holiday options, spa services, as well as four unique restaurants to suit all tastes. Costa Rica and Costa Verde are rich in diverse environments, gorgeous landscapes, adrenaline-packed activities and warm hospitality. No doubt this hotel will share this rare corner of the world with its visitors.
Hotel Costa Verde is located just three hundred metres from the beach overlooking the world famous Manuel Antonio National Park. It offers 3 rock pools with sun terraces and spacious rooms, studios and bungalows. All rooms have balconies overlooking the park's majestic shoreline or tropical tree canopies dotted with toucans, sloths and monkeys.
Costa Rica is one of the most beautiful places in the world to have a wedding! If the newlyweds let the wedding specialists at Costa Verde Hotel take care of every detail, they will easily turn dreams into reality. A wedding at Costa Verde can be an intimate gathering or a grand event, whether in a cliffside cove with the sensual scent of tropical flowers floating on the sea breeze, or right on the beach with the sounds of breaking waves, a breathtaking sunset sky and sand underfoot.
The hotel's main feature is an exclusive hotel room housed in a vintage 1965 Boeing 727, which in its former life flew global flights for South Africa Air and Avianca Airlines (Colombia). It's a fully equipped, meticulously designed, two-bedroom Boeing 727 fuselage that seems to fly out of the jungle dome, giving guests views that will make them feel like they're flying. This airliner was rescued from eternal oblivion from San Jose airport. Not without the help of great designers, it has been resurrected into a unique giant hotel room. Located on the edge of a national park near Costa Verde II, this classic aircraft sits on a 50-foot pedestal.
At this altitude, guests will enjoy scenic ocean and jungle views from a hardwood deck built over the former right wing of the plane. The interior of the aircraft is finished with handmade teak wood furniture from Java, Indonesia. There are two air-conditioned bedrooms – one with two King Size beds and the other with one King Size bed, each with private bathroom, flat screen TV, kitchenette with microwave, dining foyer, terrace with ocean views, private entrance up to the "river" rock, spiral staircase and 360 degree view.
"Costa Verde" has four unique restaurants offering the best Costa Rican and international cuisine for every taste. The bar and restaurant C-123 Firechild Plane with its interesting history, which has been transformed into a pub without losing its uniqueness, is definitely worth a visit.
And indeed, this hotel is rightly listed as one of the rare hotels in the world.
Check Rates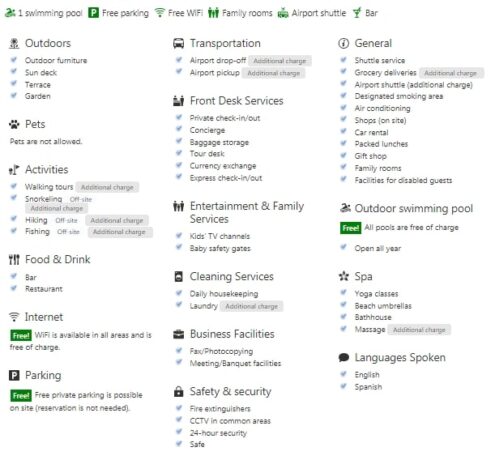 /?php echo the_content(); ?>