If going on holiday to Thailand you have chosen Pattaya, you must think about the choice of the hotel. This choice is quite large and varied and it is easy to make a mistake on your first trip. To make your choice easier, I will tell you about the three-star Pattaya Park Beach Resort, where I have stayed five times.
This hotel has a large area and two buildings. One with a 240-metre high Tower Wing. In the tower there is a restaurant, an observation deck and the opportunity to go down on a rope, in a six-man closed cabin, two-man open cabin and just the lift for those who are afraid of heights.
Check Rates
The hotel is conveniently located close to the shoreline and you don't have to cross a busy road to get to the beach. It's rare for Pattaya. Nearby is the evening market, where you can easily buy clothes, souvenirs, and dinner and "Russian street" with many different cafes, restaurants with Thai and European cuisine and massage parlors.
The area is very green and large, there are various attractions and a monorail. There is a water park, but it is paid for all, even for hotel guests. There are many squirrels on the territory, which tourists like to feed directly from their hands.
There are two swimming pools on site, the tower building has a small gym and a sauna. The tower has an observation deck and a panoramic restaurant with excellent views.
Having walked along the street for 10-12 minutes, you will reach the road on which the public transport, so-called tuk – tuk and for 10 baht will take you to the city center or in another direction.
The hotel is very popular among tourists and the enterprising Thais are hard at work on it. All cafes and restaurants near the hotel now have menus in Russian.
Nutrition – it's all very individual here. The breakfasts are plentiful and delicious for my taste. Some people don't like the food at all.
The rooms are small but cozy. The rooms are air conditioned so you won't get hot during your stay. Also most of the rooms have their own balcony.
Thanks to the tower the hotel is very famous and visible, it will be hard to get lost!
Of course, there are downsides:
The hotel is pretty old.
There are a lot of tourists and China in the hotel and they can be quite noisy.
If you do not like on vacation a large number of compatriots, then you are not here.
Check Rates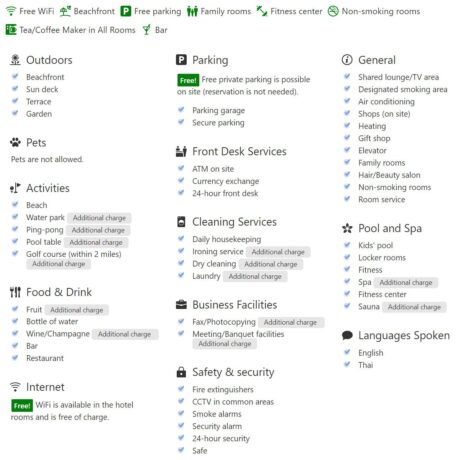 /?php echo the_content(); ?>