The quite famous Dakar Living Hotel is located in the beautiful town of Vasto, Italy. The mild climate, the clearest sea and beaches, the architecture of the old town from the 15th century and the beautiful views will make tourists of all ages feel superb here.
Check Rates
The four-star Dakar Living Hotel has 54 great rooms with balconies. Check-in is done after 12:00 PM and check-out is before 11:00 AM. The hotel staff is multilingual and will always be happy to help guests. All rooms are equipped with air conditioning, landline telephones, refrigerators or minibars, kettle or coffee maker. There is also satellite TV and wireless internet in the rooms. Non-smoking rooms or family rooms are available.
If the guest is travelling with a pet, the hotel provides the option of accommodating a pet in the room. The hotel has rooms specially equipped for people with disabilities. Bathrooms are equipped with shower, spa or whirlpool bath, separate bathroom, bidet.
Bathrooms have a hairdryer and bathrobes. In case a guest needs ironing board and iron, baby cot, dry cleaning, luggage storage service, fax, wake up call service or any other additional services, he can always ask for it from the hotel staff.
The hotel has a private beach, a fitness centre and a gym. There are tennis courts and an outdoor seasonal pool on site. You can also perfectly relax in the hotel wellness center or use the services of spa, Russian bath or sauna, massage parlor, solarium, beauty salon. In order to use these services it is necessary to reserve them in advance.
The Dakar Living Hotel features separate dining areas of the restaurant and bar. Breakfast is complimentary for guests and can also be ordered directly to the room. Parking is free of charge and equipped with special spaces for people with disabilities.
You can use the business center, conference rooms, or order secretarial services. The hotel can help arrange a wedding ceremony or banquet.
All additional hotel services are charged according to the price list.
Check Rates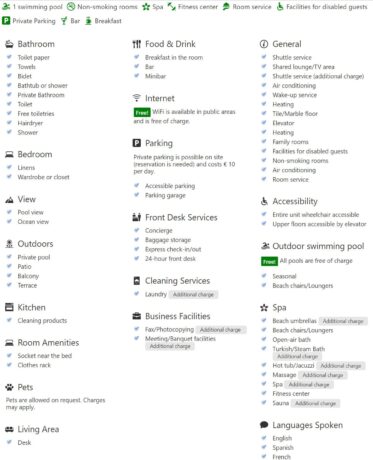 /?php echo the_content(); ?>