Nelia Beach Hotel is located in close proximity to the sea and all the attractions of Ayia Napa. A cosy, comfortable three-star hotel will help you spend a pleasant time on the shores of the Mediterranean Sea. The hotel has its own beach with umbrellas and sun loungers, which is extremely rare in European resorts.
Check Rates
The hotel building consists of five floors. Hall, bar, restaurant, reception are located on the so-called "zero" floor, where you can also use the Internet, place your luggage while waiting for your room, meet with a hotel guide in a special hall.
Below, on the "minus first" floor, there are restrooms, a gym, for round-the-clock use of which you only need to ask for a towel at the reception desk. Massage and other spa treatments are performed in the hall, you can get more information about them, as well as make an appointment, at the reception desk.
Administrators are very helpful and handles almost all questions.
Above the "zero" floor is the mezzanine, above it is the first floor, then the second, third, fourth floor. In this area of five floors are the rooms of holidaymakers.
The area of the hotel is small but very cozy. There is a swimming pool with sun loungers, umbrellas and showers, a pool bar, a playground and parking.
To plan a comfortable stay, it will be helpful to know the hotel's bar and restaurant opening hours:
Breakfast – 7:00 – 10:00
Lunch – 12-30 – 14-30
Dinner – 18-30-21-30
Pool Bar: 8-30 a.m. to 5 p.m., except during breakfast, lunch, dinner when all drinks can be ordered from the waiter serving the table.
Bar in the lobby: 17-00 – 01-00, except dinner time.
The hotel has paid Wi-Fi, the cost of services:
30 minutes – 1 euro,
60 minutes – 2 euros,
A day (1440 minutes) – €4 is the most advantageous option, since the minutes are counted only while Wi-Fi is connected.
A little about the rooms: the hotel has 155 standard single rooms, which can additionally be equipped with one or two (in two tiers) children's beds. In the room – TV, refrigerator, wardrobe, bedside tables, two beds, hair dryer. The bathroom can be equipped with either a standard bathtub or a shower cubicle. To use the electricity you must buy (in the shop near the hotel) or take a deposit (pledge) at the reception adapter adapter adapter. There are three outlets in the rooms.
Rooms are cleaned daily, towels are changed, and the bathroom is replenished with wash, shower and toiletries on time. The area is maintained in exemplary order.
Check Rates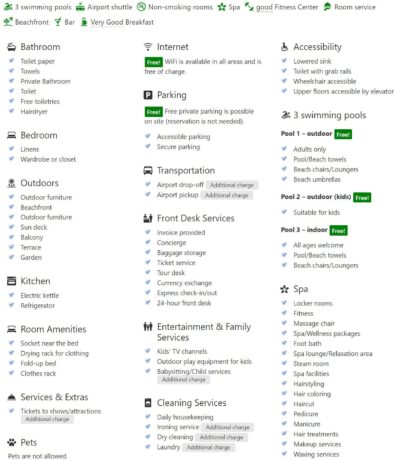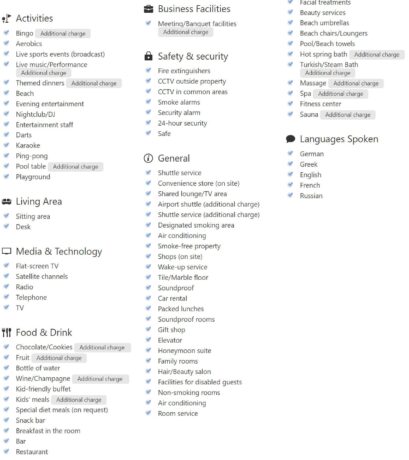 /?php echo the_content(); ?>