This unusual place is one of the least visited areas of Beauty Island. In a sheltered and abandoned cove, a world of its own exists. A world like a wild paradise, completely surrounded by the enchanting landscapes of the Cap Côtes peninsula. Here, splendid beaches overlook the Ligurian Sea and the European continent, and centuries-old villas and palaces from the 19th century represent an exceptional historical heritage.
Check Rates
"The Island in the Island," as its residents call it, has become a haven for the dazzlingly blue and iconic Hotel Misincu, which has been transformed into a hidden gem and unique luxury on Cap Cors. A 5-star boutique hotel nestled between the sea and a mountain of orange trees. In the sixties it was the favourite haunt of stars such as Alain Delon, Romy Schneider and Serge Gainsbourg. These movie idols loved to stay here, hiding from the bustling life of the Cote d'Azur and the intrusive paparazzi.
The architecture of the hotel perfectly combines the traditional elements of Cap Corse with the Greek island style of Cyclades. Throughout, the concept of barefoot luxury, which involves the peaceful juxtaposition of crooked wooden driftwood and Italian marble, is evident. The simplest room has a higher comfort and has an area from 22 square meters. Deluxe, Junior Suite and Suite rooms are 48 square meters in size. The suite, which has its own living room and separate bedroom, is ideal for families.
The individual villas are a particular pride of the hotel. The small 26 square meter villas have a bedroom, a bathroom, a private pool and an adjacent flowered garden. There are also villas for serious company of 200 to 300 square meters, designed for groups of 6 and up to 9 people. There are up to five bedrooms and a terrace overlooking the sea. Crowning Villa A Marina is situated on the seafront, it has its own cove and is completely hidden from prying eyes, offering an exclusive and discreet holiday experience. Two bedrooms with private baths are on each floor, you also have your own private beach with only the surrounding nature to look at you.
The cuisine at the hotel offers dishes made only from natural products of local origin. If you're served a meat dish, rest assured that everything for it is sourced from local farms. Local cheeses and sausages are excellent; their recipes are several hundred years old. Special attention is paid to seafood dishes. Tasty rock lobsters, spider crabs and octopus arrive from the coast of Cap Corsa, and sea urchin arrives late in the season. As for the fish, you will be offered an amazing denti (a type of perch) or rockfish. The most delicate delicacy will be red scorpionfish roasted on firewood.
Attentive and friendly staff add to the pluses of this amazing hotel in a great location. Whatever you want – all your wishes and requests will always be met tactfully and on time.
Check Rates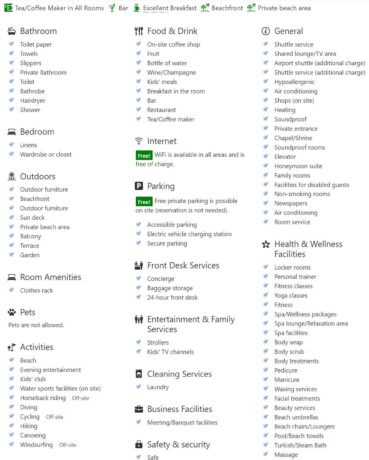 /?php echo the_content(); ?>