Hoi An is one of the oldest cities in Vietnam, located on the coast of the South China Sea. It is an ideal destination for travelers who enjoy beaches, historical sites and restaurants. Picturesque nature, excellent diving and famous sights attract tourists from all over the world to this colorful city.
Boutique Hotel La Siesta Hoi An Resort & Spa reflects the characteristic style of the ancient city of Hoi An. The hotel is next to green rice paddies and winding village streets, close to the Thu Bon River and a short walk from Hoi An Old Town.
Surrounded by colourful tropical gardens, La Siesta Resort & Spa is divided into two wings:
Classic with 70 rooms is made in the style of a spacious, but at the same time fashionable traditional hotel.
The club wing is decorated in the style of the old town and consists of eight townhouses with terraces, in which 37 classic suites are located.
The stylish rooms offer a private sauna, herbal bath and separate walk-in shower with rain shower.
A unique feature of this place is the ancient community house bordering the hotel grounds, dedicated to the founders of the thanh Ha pottery village in the 15th century. Few hotels can boast a direct entrance to the "own temple".
Located on the central coast of Vietnam, Nam Hai Hotel offers access to three unusual UNESCO World Heritage Sites and relaxation on the country's most famous beach. Mostly families rest here: with their loved ones you can go to the East Sea by kayak, explore the splendor of imperial Hue or just enjoy the silence in your own villa.
In total, the hotel has two types of accommodation:
Villas. Overlook the sea or the landscaped gardens and have private terraces and tropical outdoor showers.
Villas with swimming pool. These are houses with a heated pool surrounded by a tropical garden, and a separate dining pavilion with a thatched roof.
The uniqueness of the hotel is not only secluded villas, but also one of the best spas in Hoi An. The following programs are presented:
A touch of nature. You can relax and recover with a wide range of therapeutic massages.
Facelift. Advanced treatments will give a younger and more flawless complexion.
Bathing ceremonies. Bathe in the lotus and oil bath at the spa or in your own villa.
Children's complex. These treatments are intended for guests between 6 and 12 years of age.
The hotel's giant sail-shaped buildings facing Binh Minh Beach are a masterpiece that combines modern architectural style and the beauty of nature.
Vinpearl Resort & Golf Nam Hoi An is an ideal place for a family holiday with cultural activities and educational and entertainment products exclusively for children. Also, the hotel is ideal for business tourism thanks to excellent service and a system of conference rooms.
At Vinpearl Resort & Golf Nam Hoi An, visitors can enjoy a variety of cuisine, from international buffets to gourmet dishes in the luxurious setting of the restaurant. After a busy day, visitors can sample regional cuisine as well as European and Asian cuisine at An Restaurant, which recreates the atmosphere of coastal fishing villages, or relax and watch the sunset from the rooftop bar.
Vinperl Resort & Golf Club Nam Hoi An welcomes visitors with its distinctive modern architecture and Mediterranean design. Here, visitors can stay in modern hotel rooms with sea views or enjoy the most modern amenities in luxurious duplex villas with a unique design – all combined with the amenities of the Vinpearl resort ecosystem.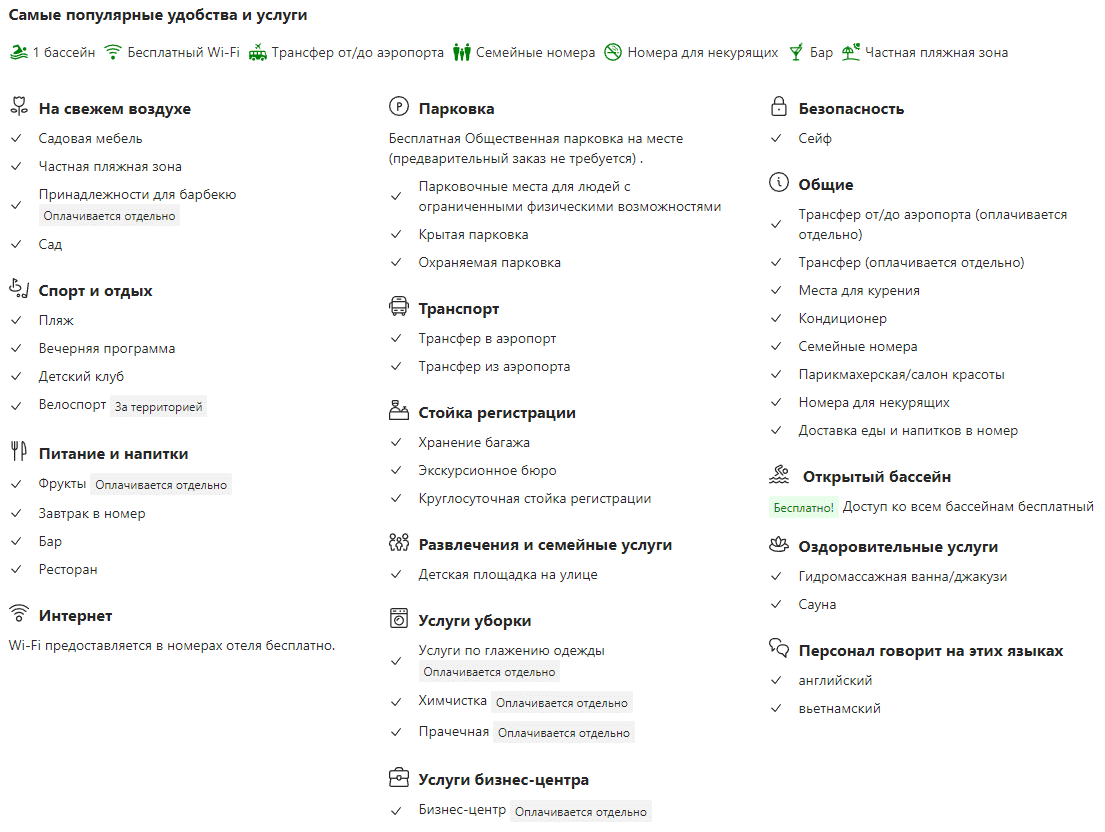 Hoi An Odyssey Hotel is the perfect choice for visitors looking for a combination of beauty, peace and quiet, as well as a convenient location from where to explore the beautiful old town of Hoi An.
Hotel Hoi An Odyssey, located on the banks of the Thu Bon River, overlooking the place where the river flows into the sea, is an ideal choice for those travelers who want to feel the Vietnamese flavor and at the same time live in a traditional five-star hotel. Hoi An Odyssey Hotel offers excursions to a real village on the other side of the coast, where in the 7th century the Champa Empire used Hoi An as one of its main trading ports.
The hotel is just a ten-minute walk from the famous historic Old Town of Hoi An. Here you will find old houses, restaurants, bars, traditional tailors, fairground shops, as well as craft workshops that feature traditional Vietnamese embroidery, music and dance.
The hotel itself offers excellent cuisine, a bar, an outdoor pool with sun terrace and a relaxing spa in the garden and a massage room, which is completely closed to privacy. The rooms are equipped with luxurious extra-large beds and custom-made furniture designed specifically for the Hoi An Odyssey Hotel.
Anantara Hoi An Hotel enjoys a privileged location, less than a kilometre from the historic Hoi An district, amidst lush gardens bordering the Thubon River. The boutique hotel in Hoi An offers riverside restaurants, great spa treatments and river cruises at sunset.
Anantara Hoi An has two types of accommodation:
Rooms and suites. They are distinguished by a classic décor. Here you can relax not only in the bedroom, but also in your living room or on the sofa on the balcony. There is a choice between a view of the gardens or the river.
Suites Anantara. Features a separate living room and a luxurious bathroom with a rain shower and bathtub. You can swing in the rattan nests on your private balcony overlooking the garden or river.
Anantara Hoi An's restaurants showcase the beauty of the river landscape. Guests can enjoy fresh Vietnamese cuisine on the terrace or at the restaurant. Guests can also admire contemporary art in the lobby and enjoy cocktails or snacks.
Not far from the hotel you can stroll along the promenade past small cafes and visit the sights, UNESCO World Heritage Sites. And explore the narrow streets of Hoi An, temples, contemporary art galleries and tea rooms. Staff can help arrange a day trip to visit the ruins of Mai Son, local artisan villages and An Bang Beach.
Victoria Hoi An Beach Resort & Spa has 109 rooms of various sizes and styles with Japanese, classic French or traditional Vietnamese décor.
The beautiful open-air lobby at Victoria Hoi An Beach Resort & Spa is decorated in a colonial style. Victoria Hoi An Beach Resort & Spa combines Japanese, French and Vietnamese elements. The heart of the hotel is a swimming pool with coconut palms, which offers views of the ocean and the surrounding area.
Victoria Hoi An Beach Resort & Spa has several places to grab a bite to eat or have a drink:
L'Annam Restaurant serves international, Vietnamese and Asian dishes throughout the day. In addition to the weekly Sunday brunch and periodic themed evenings with buffets, vegetarian and Vietnamese set menu options are also available, as well as an extensive wine list.
Faifo Bar offers refreshing drinks by the pool. In addition to outdoor dishes such as burgers, pasta and sandwiches, the all-day snack menu also features gourmet and Hoi An specialities.
The spacious Elephant Bar with two pool tables and a widescreen TV will appeal to sports enthusiasts. The bar offers an extensive list of cocktails, spirits and soft snacks.
Popular Vietnamese and international dishes can also be enjoyed in the room from 6:00 to 22:00. The restaurant's chef can also arrange dinners for couples and groups.
Hoiana Hotel & Suites are surrounded by lagoons and swimming pools. Guests can enjoy restaurants, a rooftop bar, a beach club and an extensive golf course. At the same time, the hotel has only suites designed to offer panoramic views of the ocean and the surrounding area.
The hotel is suitable for young people and those who do not want a quiet beach holiday. Nightlife and world-class extravagant entertainment are here at every turn, you don't even need to leave the hotel.
Hoiana Hotel & Suites prides itself on fulfilling all the whims of its guests. It features state-of-the-art facilities so that the customer does not need anything during their stay. For example, a visit to the fitness center or swimming pool is energizing, and a trip to a relaxing and refreshing reflexology zone contributes to recovery on a physical and mental level.
Little Riverside Hotel & Spa is located on the banks of the Thu Bon River, in the heart of the ancient city. Such hotels are traditional architecture and Hoi An design combined with modern service,
Little Riverside Hoi An . A Luxury Hotel & Spa offers the following activities and relaxation:
Ozone Spa with 4 separate massage rooms, steam bath.
Outdoor rooftop infinity pool and sky bar.
State-of-the-art fitness centre.
In the SPA complex, the most popular is a soothing massage, which is carried out in one of the four private massage rooms. You can also choose other massages of Vietnamese, Thai, branded and other styles.
Traders Waterfront Restaurant is the hotel's traditional restaurant, specialising in Vietnamese and Western dishes. The restaurant also offers an extensive beverage menu.
Citadines Pearl Hoi An consists of 581 hotel rooms and suites, ranging from Superior Rooms to Three-Bedroom Premier Suites. Citadines Pearl Hoi An offers a wide range of accommodation options.
A strong feature of the hotel Citadines Pearl Hoi An is the design, which is competently selected throughout the territory. The rooms themselves are also decorated in a modern and sophisticated style. The advantage is also a round-the-clock security system and high-speed Wi-Fi, which allow guests to stay in touch with work or friends.
Whether it's a weekend getaway, honeymoon or business trip, guests are sure to enjoy an unrivalled gastronomic experience and a wide range of entertainment options.
Please note that one child up to six years old stays free of charge when using existing beds in the room.
Hotel Hoi An Resort is famous for its Vietnamese cuisine and hospitality. The advantage is the villas with large terraces, which are located on the beach. You can relax in the swimming pool surrounded by lush tropical gardens or enjoy a massage in the SPA area.
All rooms at Hoi An Resort Boutique Hotel have private balconies or terraces. And some of the rooms have direct access to the beach. Boutique Hoi An Resort offers a total of 110 rooms and villas, of different categories:
Superior room. Located in the main building of the hotel overlooking the sea, swimming pool and garden.
Deluxe room. Located in the main building of the hotel overlooking the garden. This is a modern colonial-style room with a spacious balcony
Deluxe Family Room. Located in the main building of the hotel overlooking the garden, there are 2 bedrooms with a connecting door, an open balcony and a living room. The rooms have a modern interior design.
Premier Deluxe Room. These first-class rooms consist of a spacious covered area and a private balcony or terrace.
Boutique deluxe room. Located at the level of the first floor. There is a private terrace.
Villa with swimming pool. Villa with sea views, with private pool and large terrace, next to the beach. This modern colonial-style villa includes two large bedrooms, one with a king-size bed and one with two single beds, each with its own bathroom, as well as a large living room in the center.
Grand Beach Villa. Located right on the beach, there is a large private pool and a large terrace. This modern colonial-style villa includes three large bedrooms, a kitchen and a large central living room with dining area.
Boutique Hoi An Resort hotels offer many unique services, but still the centerpiece of the resort is a large swimming pool surrounded by tropical gardens.
Hotel Mulberry Collection Silk Marina is located on the banks of the Thu Bon River and a short walk from the Old Town. The hotel has 4 unique restaurants and bars, which offer both seasonal dishes and traditional and local delicacies.
Mulberry Collection Silk Marina offers 101 rooms with air conditioning, a minibar and a safe. Each room has separate seating areas. On the territory there are outdoor and children's pools, a lazy river and a fitness center. As well as a SPA zone.
Sundari Spa has 5 treatment rooms, including rooms for couples. Services provided:
facial treatments;
wraps;
body scrubs;
body care procedures.
Spa facilities include a sauna, a spa bath, and a steam bath. The spa is open daily. Guests under the age of 6 are not allowed in the spa.
In the coastal city of Hoi An more than in other cities of the country, the Chinese atmosphere has been preserved with one-story houses with a tiled roof, narrow streets and hospitable people. Hoi An hotels are distinguished by developed infrastructure, comfortable rooms and excellent service.
Подборка отелей Хой Ан на карте
/?php echo the_content(); ?>