One of the very first impressions of the service, as they say, European quality is a trip to Helsinki and a stay at the Radisson Blu Seaside Hotel.
Check Rates
This international class hotel couldn't be more charming: the design, the service, the cuisine, the view from the room. And most importantly – a complete set of tourist happiness in the room: tea kettle with coffee and tea accessories, bathroom sets and, of course, disposable slippers for hotels. That last detail seems like a mere detail to many people. But when you travel in winter, it's so nice to come in from the cold street or take a shower and put on soft clean slippers.
Service in hotels is very important and, in fact, is the face of the hotel itself. There is a lot that depends on the service staff, first and foremost – the mood of hotel guests. And, as you know, the guests' mood affects their opinion of the hotel. Although the staff may seem inconspicuous at first glance, that's the whole point. Greeting, but not intrusive porter, front desk staff, ready to help guests around the clock, friendly waiters, who closely monitor the availability and freshness of food, and of course, maids – fairies cleanliness and order of the hotel.
Upon arriving at the hotel, the first thing I noticed was the style of the lobby and reception area. Some hotels aim to captivate and surprise guests with their luxury, but the Radisson Seaside has a unique blend of sleek design, comfort and surprisingly interactive details, like the huge hanging sofa in the centre of the lobby and the cosy coffee bar next to reception.
The rooms in the hotel are also of a high standard. The design is simple but stylishly Scandinavian, which is characteristic of the Radisson Seaside hotel chain. Mandatory attributes of the room – a huge bed with snow-white linens, a desk, which can be dining room, kettle, tea bags with tea, coffee, sugar and dried cream. And it's replenished every day! Not to mention daily room cleaning, change of towels, toiletries and terry slippers. Such service is especially pleasant during a long stay at the hotel, when there is no time and wish to do cleaning and cooking.
on your own.
Based on my own experience, I advise to give preference to hotels Radisson chain in Helsinki. Choosing them, you will not be disappointed, and the rest will pass without unnecessary worries and hassles.
Check Rates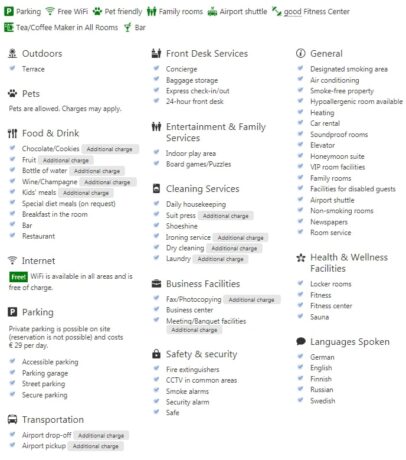 /?php echo the_content(); ?>